This has been a busy week for us, my sweet little one turned two! I can't believe she is already two. With a farm theme, I created a invite using products from Mo Jackson and a little piggy cake that was a hit with Rachel. And you can see that she enjoyed a little finger painting too!
LOL
Big
digi
news #1... Nancy
Comelab
is moving shop! I can't tell you where, but I can tell you that EVERYBODY will be enjoying her new store. For now though, you'll just have to live without any new products, but only for about a week though before she debuts in her new setting. And when she does, she'll also have some new cool products for us!
By the way, if you are not fortunate enough to know Nancy, she is one of the most kind and generous people around... not to mention how very talented she is!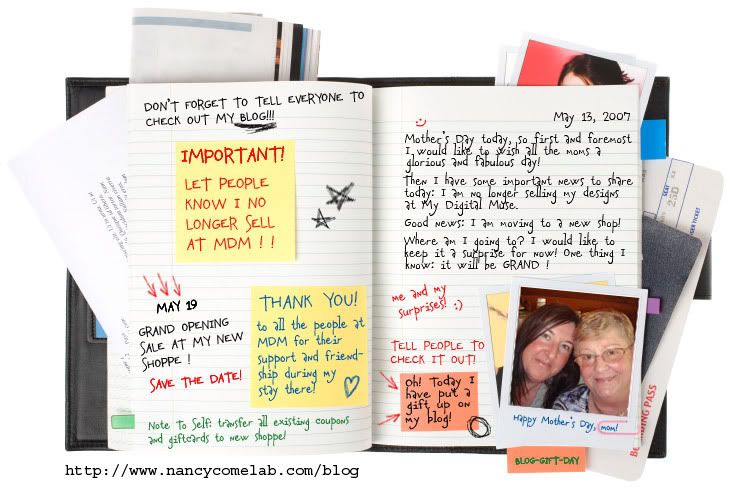 And big
digi
news #2... This has got to be one of the coolest contests going right now, and I have to say it is certainly the most creative! Here's the low down...
Buy the new
Sausan
Designs kit at Scrapbook Graphics without knowing what it looks like (hence the blind date contest name). Create a layout using the kit and post it to the 'blind date' gallery at Scrapbook Graphics by Sunday the 20
th
for a chance to win.
Three prizes will be given awarded, and all three prizes are great. But the top prize is unbelievable generous... a stint as a guest creative team member for *6* months! Not just one, but 6 months of free
Sausan
Designs products... can you just imagine... :)
And time for a few layouts. Two pages of my Little Miss and two pages of my Littler Miss.
1. First Grade (
view credits here
). BTW this kit was a freebie, just for signing up to
receive
the
Little Dreamer Designs
newsletter.
2. Magic of Disney (
view credits and

journaling

here
).
3. Brushing Papa's Hair (
view credits here
).
4. First... (
View credits and

journaling

here
).
And this last page was a
rescrap
using mainly Tracey
Monette
products. If you click on the 'see credits here' up above you will also see the original page.
I hope everybody has a great day!